Jordan is one of those magical places that will forever go down in the wanderlust history books. It's one of those destinations that you didn't think could be as beautiful as the photos because no place could ever be that awe-inspiring. It's one of those places you didn't think could make such an impact on your life, even if it has influenced civilizations for thousands of years. And you didn't think you could possibly fall so deeply in love with a new land, even if it has inspired so many of its own legendary love stories. That is, you didn't fully believe until you stepped foot on Jordan's soil. And then you realize that the magical, mystical thoughts of Jordan that existed in photos and in guidebooks…well, they're real and they're enchanting. Save up to 20% at thousands of hotels worldwide, across 6 Hilton
brands, when you book in advance. Plan Ahead & Book Now!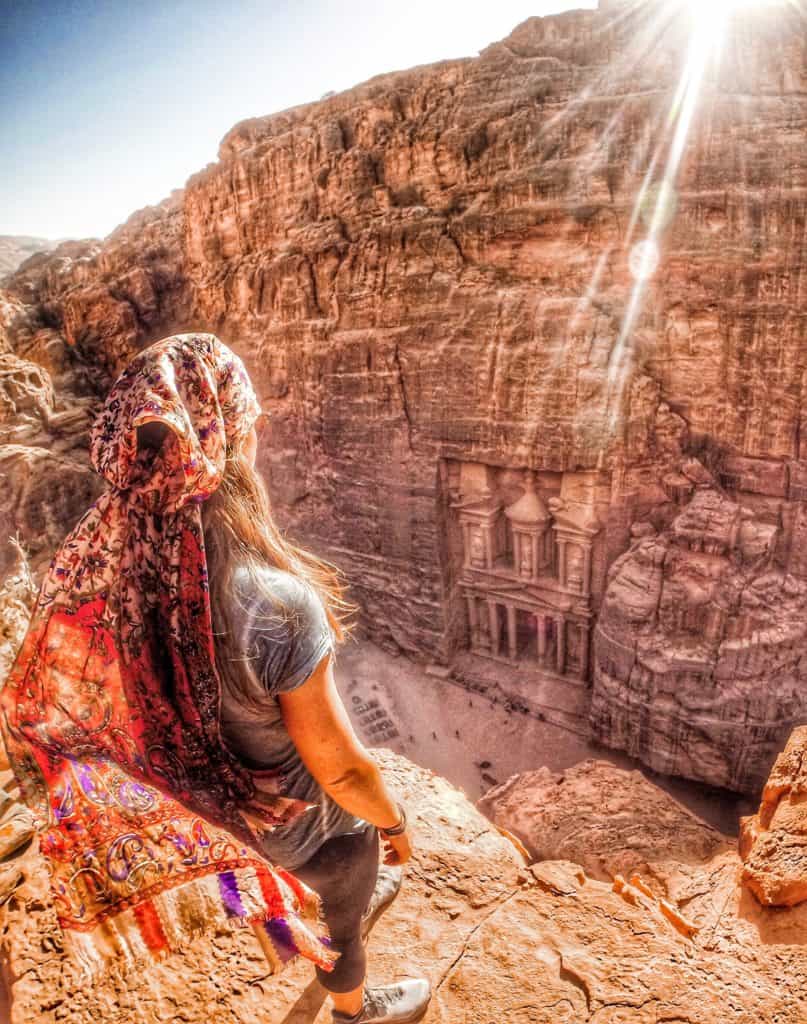 Fast Facts:
The capital of Jordan is Amman
Currency: Jordanian Dinar (conversion at time of writing)
Transportation: Taxi, Uber, car hire
Flights: Direct flights from the U.S. on Royal Jordanian from Chicago, New York, and Detroit.
When to Visit: September – November; April – June
Food you Have to Try: Knafeh, Hummus
Who Jordan is For:
Adventurers
History lovers
Foodies
Social travelers
Desert lovers
Scuba Divers
Ever wanted to ride a camel? Wadi Rum, Jordan is the place!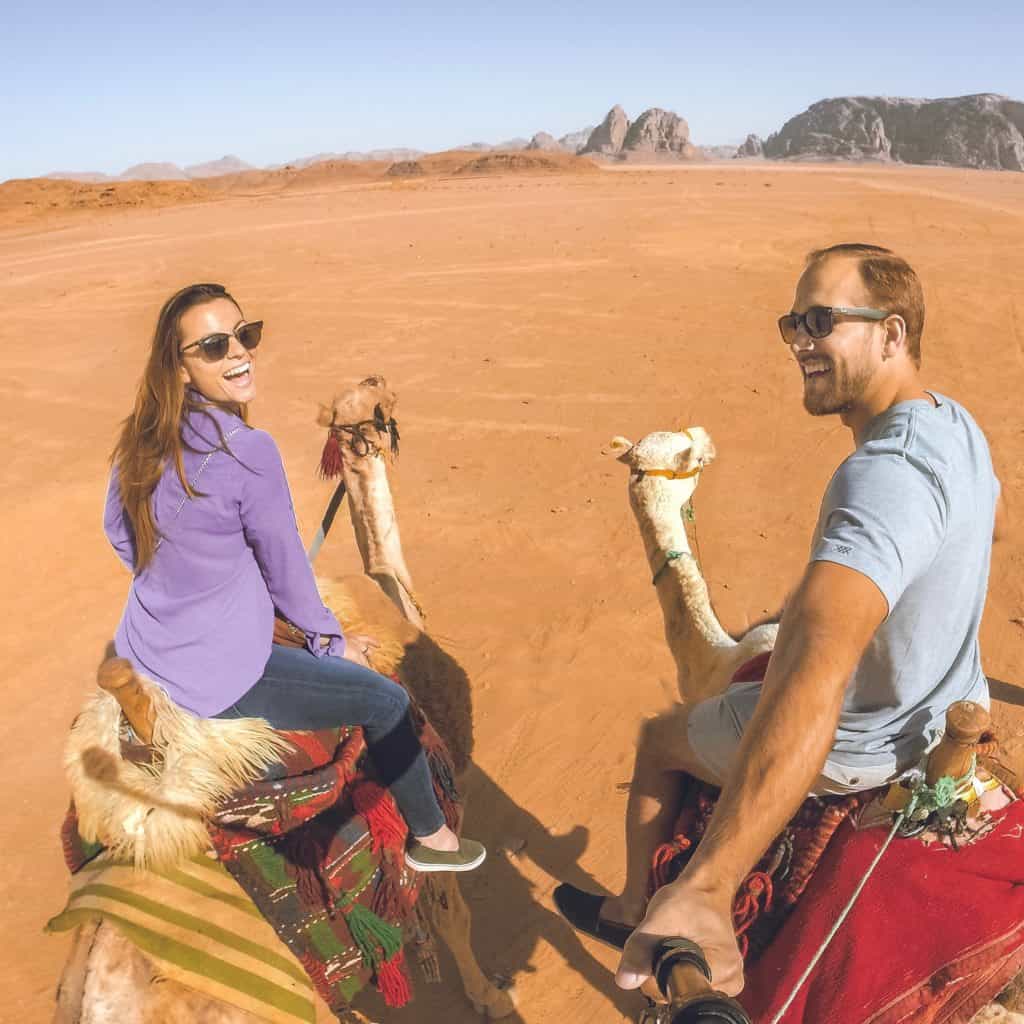 While Jordan is a country that you could spend your entire life learning about, we understand that you may only have a week or two. Luckily, there are many direct flights from the U.S. on Royal Jordanian. Save precious time by flying on one of the direct flights and if you can, splurge for Crown Class. For the ultimate journey through Jordan, we recommend a 10-day trip.
The Roamaroo Adventure through Jordan
Amman (2-3 nights)

Jerash (day trip from Amman)

Wadi Rum (2-3 nights)

Petra (2-3 nights)

The Dead Sea (2 nights)

Optional: Aqaba (1-2 nights): If you love scuba diving and the beach, add on Aqaba after or before Wadi Rum.
Safety
We understand that safety is of the utmost concern for Americans traveling to the Middle East. While we don't want to downplay the horrific conflict that is happening in neighboring countries, Jordan was one of the safest countries we've ever visited. Jordan may have some naughty neighbors, but within the confines of the country, it is indeed very safe. We felt safer her than most US cities.  The Jordanians made sure we were welcomed into their country and looked after properly. In a sense, Jordan reminded us of Coco's Italian relatives, always making sure that you were welcomed, fed well and never harmed. To learn more about safety and what to know before visiting Jordan, click here.
Jordan Drone Laws
The drone laws of Jordan are very strict! To bring in a drone into Jordan you need approval from the military 3 months before visiting.  Also, someone from the military must be with you at all times while in Jordan.  If you have a drone, I do not recommend trying to take it to Jordan.
City Guides
While Amman is the capital of Jordan, it's an often-overlooked stop on journeys through Jordan. Amman immediately captivated us with its effortless amalgam of ancient history and modern day magic. It's a city that stays authentic to its historical roots while also possessing a progressive population. Amman is all about exploring. For us, that meant the gastronomy scene and the history.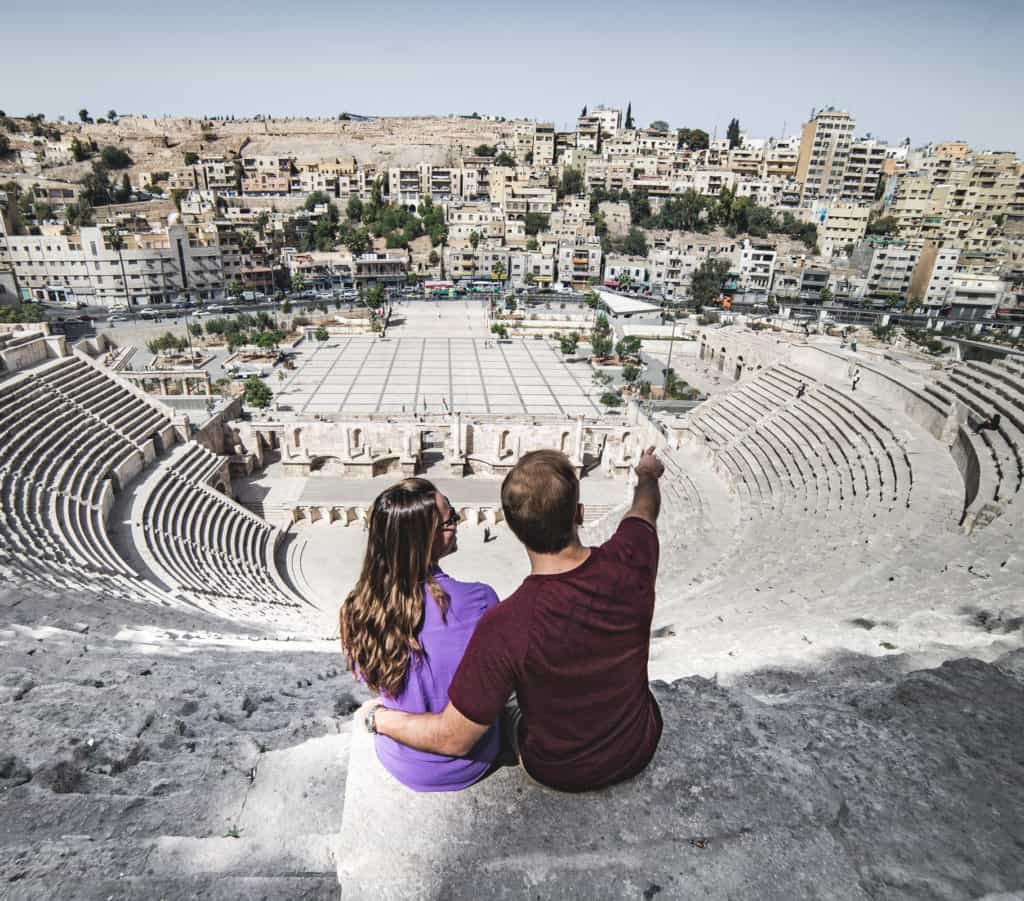 If you're headed to Amman, prepare yourself for a feast for the senses. Most importantly, you should prepare for an actual feast because the food in Amman (and all over Jordan) was extremely surprising and absolutely delicious. We looked forward to every single meal in Jordan, specifically when dessert was involved. For the best dessert in Amman, head to Habibah 1951. This is the oldest place for dessert in all of Amman! Since 1951, they have been serving knafeh, a Jordanian specialty dessert that combines sugar and cheese (is there anything better?). It is in our top 3 desserts of all time. As sweet tooth specialists, that's no small feat!
The history in Amman dates back thousands of years to the time of the Roman Empire. When visiting Amman, you must visit:
The Citadel: The Citadel is on the highest hill of Amman and possesses artifacts from The Golden Age. Enjoy a mix of Roman and Byzantine architecture from these ancient times.

The Roman Theatre: With a seating capacity of over 6,000, the massive Roman Theatre is chiseled into the side of a hill, overlooking the city of Amman. Try standing in the middle of the stage and speak out to hear how your voice projects over the theatre, just as the Romans did when they performed.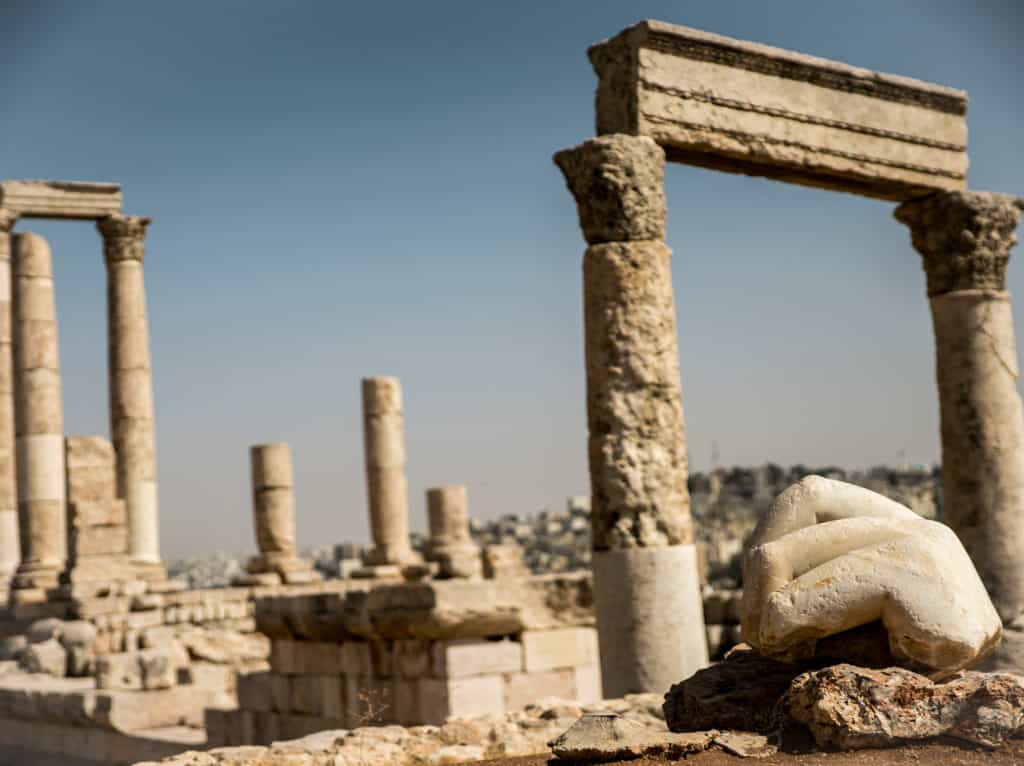 As a day trip from Amman, it's imperative that you visit Jerash. When visiting Jordan, we knew we would see magnificent sites such as Petra and The Dead Sea, but we didn't even know anything about the stunning Greco-Roman city of Jerash! Located around 1.5 hours away from Amman, Jerash is a historian's dream. It's one of the largest ancient roman ruins in the world! Its architecture makes you feel as though you've just walked into ancient Rome over 6,500 years ago. A day trip to Jerash is well worth the trip.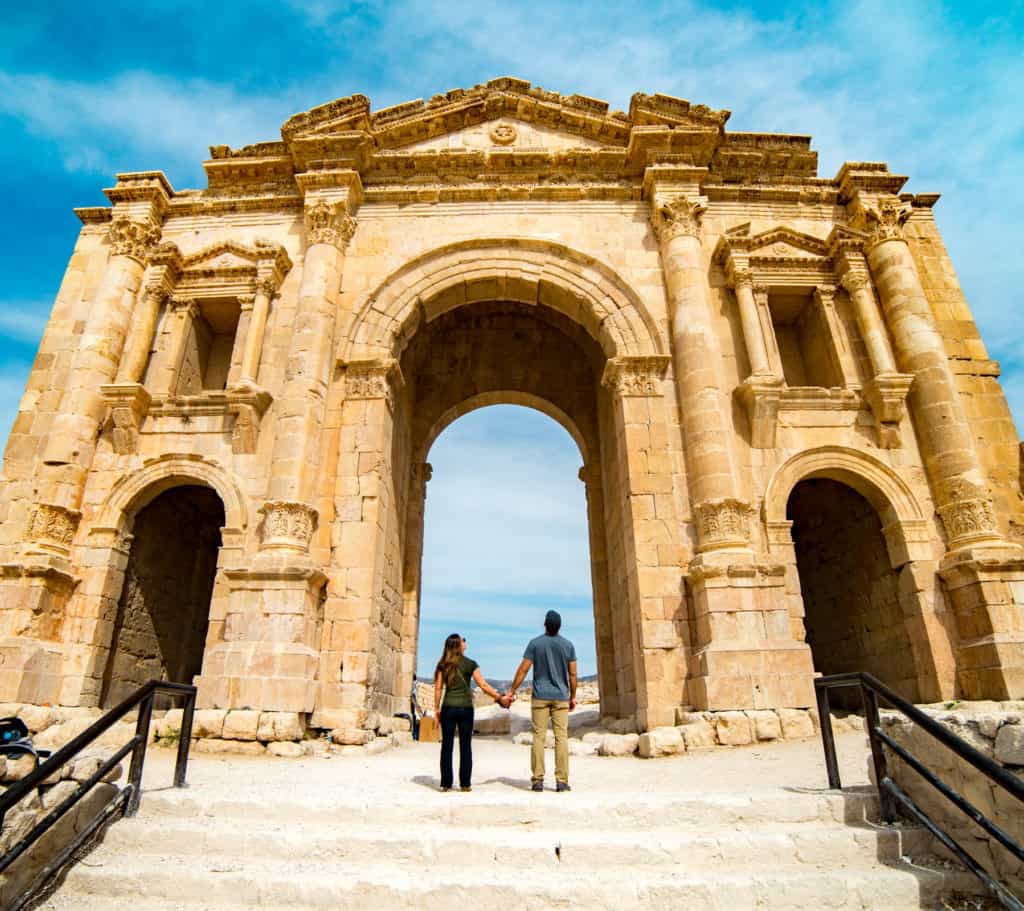 Stay at:
The Movenpick Petra
Petra is the main reason that so many people travel to Jordan. This ancient city is over two thousand years old and originally was built by the Nabateans. After a devastating earthquake, its entrance was covered hundreds of years ago and hidden from the modern world. Petra was only rediscovered in the 1800's by a European traveler disguised as a local Bedouin (nomad).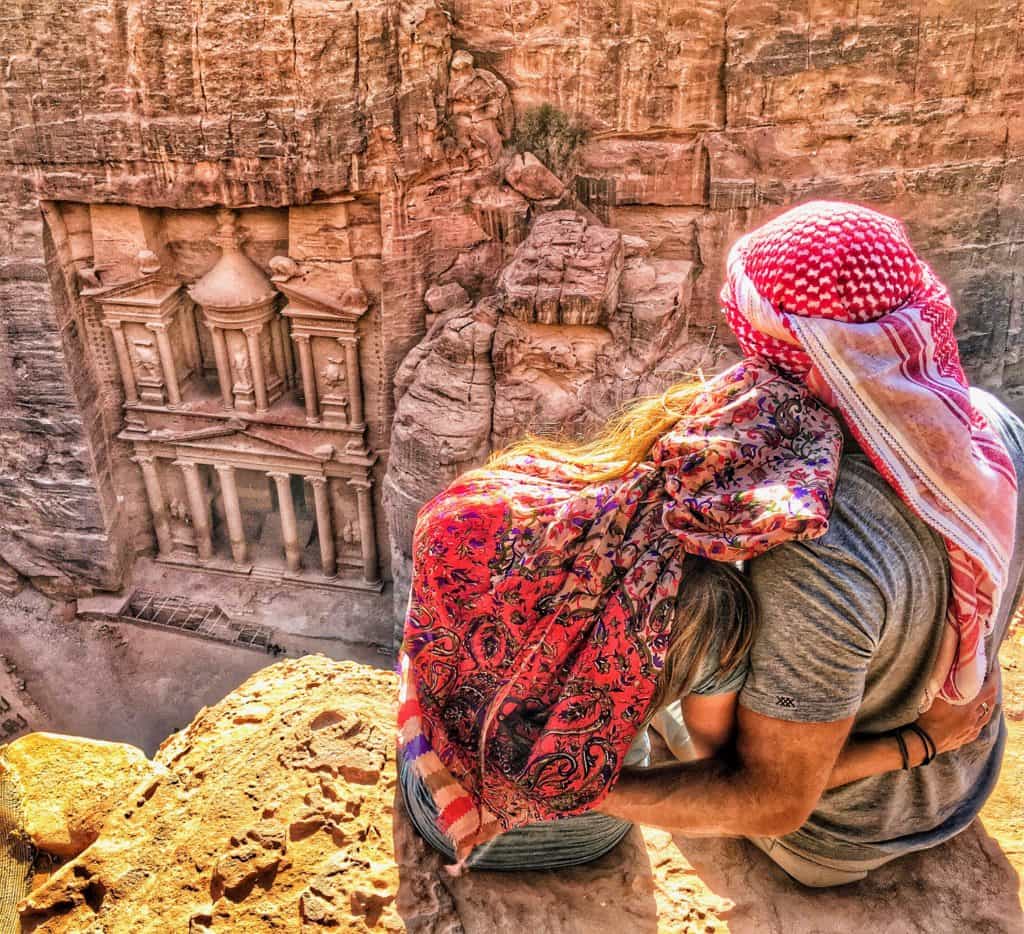 Visiting Petra was one of the most magnificent travel experiences we'll ever have. The sheer enormity of it all is breathtaking. The walls shoot up 150 feet with a gap of only 6 feet in the narrowest places!  While you may have seen photos of The Treasury, it's important to remember that Petra is a city, not just a monument, and thus it takes time to see. You cannot Clark Griswold Petra. You must take your time and explore the intricacies of this ancient lost city.
The rose red city of Petra is filled with tombs because the Nabateans believed in the afterlife. Thus, all of the enormous structures, including that of The Treasury, are tombs. An additional area worth exploring, especially for you budding photographers, is the secret trail above the city of Petra. While it takes an hour to hike up the 700+ stairs, the reward at the end is an unparalleled view of The Treasury. This might be the only place where you don't have to battle for a clear photo of The Treasury.  Our guide helped us by renting donkeys to climb the 700 steps.  This ride adds to the true Petra experience.  
Three nights a week, Petra puts on the famed 'Petra by Night.' When visiting Petra, make sure that you arrive on of the Petra by Night evenings. You'll walk the mile+ in to see the Treasury with only candles illuminating the pathway. Once you arrive to Petra by Night, you'll be greeted by hundreds of lit candles glowing in the Jordanian night. Enjoy a traditional Bedouin music performance and take in the mysticism and magic of Petra.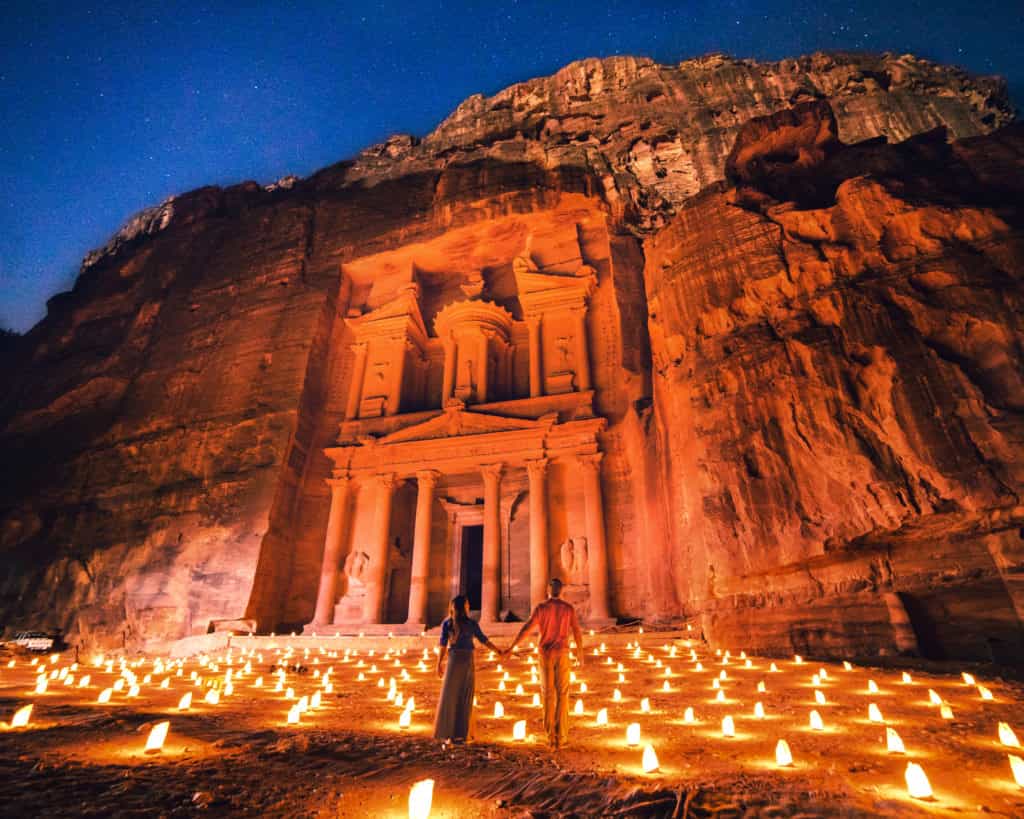 Note: If you're exploring Petra in one day, we recommend riding donkey's part of the way. We still walked over 10 miles, but the donkey rides helped save our energy and our feet! Pack your hiking shoes and prepare for a full day of amazement.  Wear proper clothing for donkey riding or ask your guide ahead of time if they think you'll be riding donkeys.
Stay at:
Bait Ali Camp
or
Wadi Rum Night Luxury Camp
Wadi Rum was our absolute favorite destination on our journey through Jordan. The red desert of Wadi Rum is known to the locals as the Valley of the Moon. Its otherworldly landscape is unlike anything else in the world. If you're an adventure lover, Wadi Rum will be your mecca. From 4×4 activities through the sand dunes to hot air ballooning high above the desert, camel rides to starry nights, Wadi Rum is full of adventure.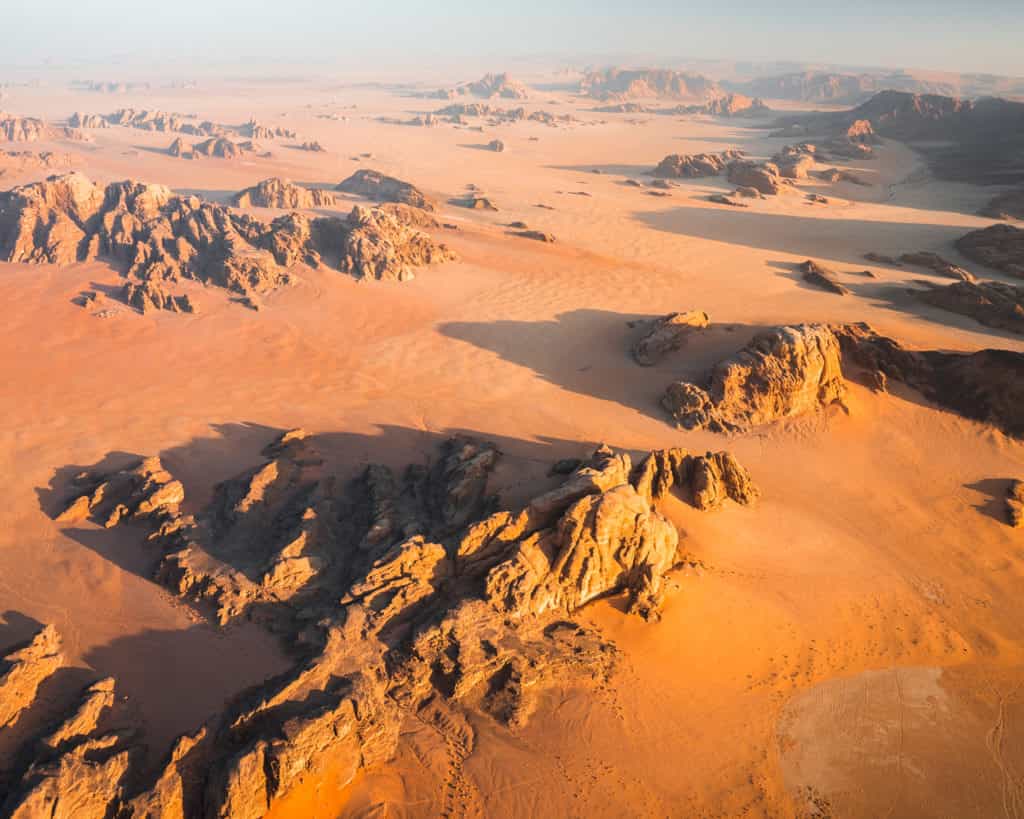 We stayed at a luxury glamping location in the middle of the desert. Far away from civilization, we felt completely immersed in the magic of Rum. The only problem: we only stayed one night! We highly recommend spending a few nights in Wadi Rum.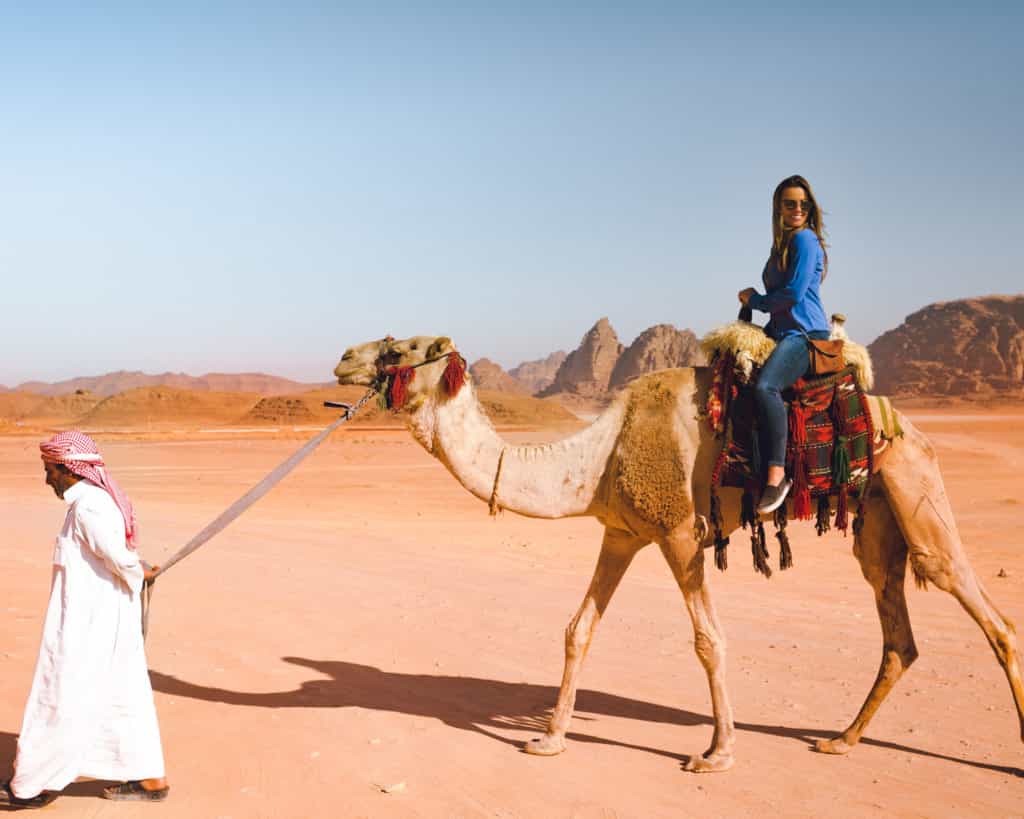 Stay at:
The Kempinski Ishtar
The Dead Sea was our biggest surprise of the trip. While we were excited to float in the water, we had no idea it would be so much fun. Let us start by saying that the Dead Sea is one of the most beautiful places we've ever visited. At 400 meters (that's around 1400 feet) below sea level, it's the lowest places on earth. It spans over 31 miles and has a depth of 1000 ft. With sunsets that seem to last forever, perfect dry weather, and a bright sun that warms every section of your body, it's Jordan's very own oasis.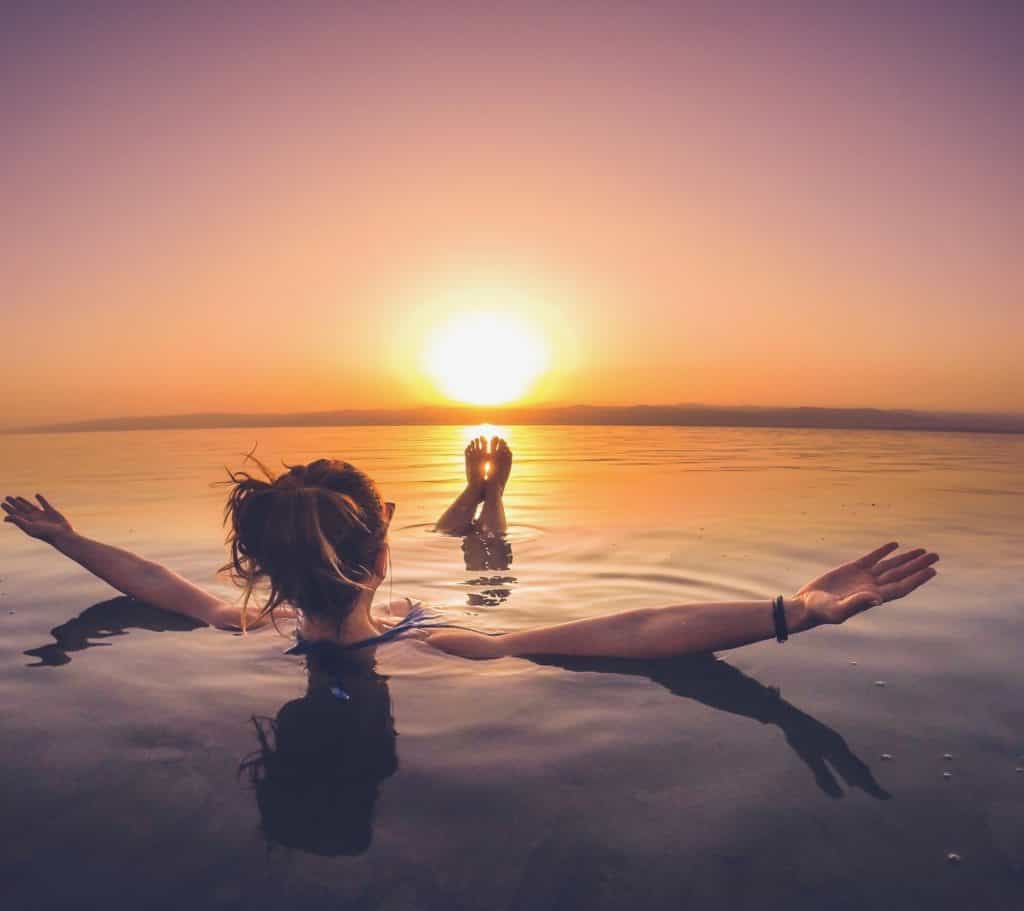 While there are various hotels in the Dead Sea area, there is only one hotel that you should even consider staying at and that is the Kempinski Ishtar. There are hotels and then there are hotels you will never forget. The Kempinski Ishtar is a sprawling 5-star resort, sprinkled with palm trees and bougainvillea for as far as the eye can see. We were upgraded to one of their luxury villas where Angelina Jolie had stayed when she visited. What can I say; I'm a sucker for anything Angie.
Unfortunately we only had a day at the resort while I wish we could have stayed a whole week!  In our day, we packed in a couple's massage, lounging poolside with the Kempinski's live DJ, a dinner at their resident Italian restaurant, and then wrapped up our day with cocktails and shisha (hookah).