Editor's Note: I first wrote this article for The Huffington Post.
So you met this fabulous guy/gal and you're in love. When you look at each other, you see unicorns and rainbows, your heart goes pitter-patter, and you no longer meander through the halls at your office, you skip and sing like Will Ferrell in "Elf." You're in love and you want to shout in top of a mountain. But before you settle down with your significant other, there is a tried and true test to find out if he or she is "the one" and that is the test of travel. Mark Twain once wrote,
"I have found that there ain't no surer way to find out whether you like people or them then than to travel with them."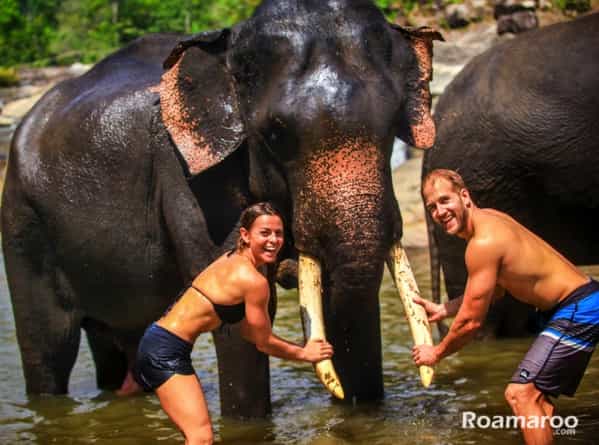 My husband and I left our corporate lives in California in June of 2015. We've been traveling the world ever since. It's been a beautiful way to build and better our connection with each other and with the world. While this may seem like flowers and candy, romance and roses, like marriage – traveling together takes work! Having spent the last year and a half together, 24 hours a day, 7 days a week, we know what it takes for a couple to stand the traveling test of time.
Weathering the Storm of Twosome Travel
Travel is a beautiful way to bond with your babe, but it's also the quickest way to find out if he or she can weather the storm of love. Nothing kills romance like a cancelled flight, a bout of traveler's diarrhea, or lost luggage. More than that, travel can reveal one's true colors. When we're placed in an uncontrollable and unfamiliar setting, how does he or she react? Does he or she go with the flow or freeze?
Bill Murray crashed a bachelor party a few years ago and had some sage wisdom on the subject. He said, ""If you have someone that you think is The One, don't do… don't just sort of think in your ordinary mind, 'Okay, let's make a date. Let's plan this and make a party and get married.' Take that person and travel around the world. Buy a plane ticket for the two of you to travel all around the world, and go to places that are hard to go to and hard to get out of. And if when you come back to JFK, when you land in JFK, and you're still in love with that person, get married at the airport."
For the full article, featured in The Huffington Post, click here!