Written by resident Roamaroo writer, Aubrie from Globetrotting Ginger Travel. Traveling alone for the first time can be a bit intimidating. However, finding the right place to travel will help ease your virgin solo travel soul. Traveling solo can build your confidence, give you a sense of freedom, and allow you to explore a new place on your own time.
This list includes cities that are safe, easy to walk around, have a great public transportation system, and lots of activities! Now what are you waiting for? It's time to pack your bags and book your flights to one of the top 20 cities for solo travel.
1. Reykjavik
The streets of Reykjavik are so charming and colorful and the locals are always willing to help out with anything. There is so much to see in just a short walking distance and it's hard not to fall in love with its Icelandic charm. I dare say this is one of the best cities in the world for solo travel and where else can you take a #trollselfie?
---
2. Queenstown
If you love adventure, this city is for you! The options are limitless in Queenstown and the scenery definitely doesn't hurt it either 😉 Queenstown is one of the safest places I've ever visited alone and the only thing you need to worry about is how long you'll have to wait in line for a famous Ferg Burger!

---
3. London
Oh London, what is there not to love? There are countless free museums, picture perfect pastel houses in Notting Hill, all the cereal eating you can imagine at Cereal Killer Cafe, and incredible broadway shows in Piccadilly Circus. That is just brushing the surface. The metro system is incredibly easy to navigate including the mega touristy red double decker buses.
---
4. Rome
I have been to Rome 3 times and I can say that after all these visits, it still intrigues me! Rome is one of my favorite cities in the world and there is so much to see and do within walking distance. I still remember my first time in Rome, eating my way around the cities various sites. I ate gelato by the Trevi Fountain, pizza by the Colosseum, and pasta by the Pantheon. You'll be having way too much fun to even notice that you're alone.
---
5. Venice
Venice is one of the safest cities in the world. The most dangerous part of Venice is the chance of possibly falling out of a gondola. (Which I don't think ever happens) But seriously… Venice is quaint, unlike anywhere else in the world, and absolutely safe for the solo traveler. If you have a little extra time, check out Venice's vibrant brother, the island of Burano.
---
6. Krakow
Krakow has a wonderful old town surrounded by castle gates that you can actually walk in! The food is delicious and cheap and there is plenty to do in the area. A highlight of the city is Krakow castle where there are many different areas to tour, including a dragon blowing fire at the end. I sat next to the river there all day and just watched people pass by and I never once felt unsafe.
---
7. Rothenburg
If you want to feel like you stepped into a fairytale, then definitely visit the city of Rothenburg, Germany. It is the most cute, quaint little town in Germany with colorful houses and a Christmas museum open year round! Don't forget to try a fried cookie dough ball called a schneeball.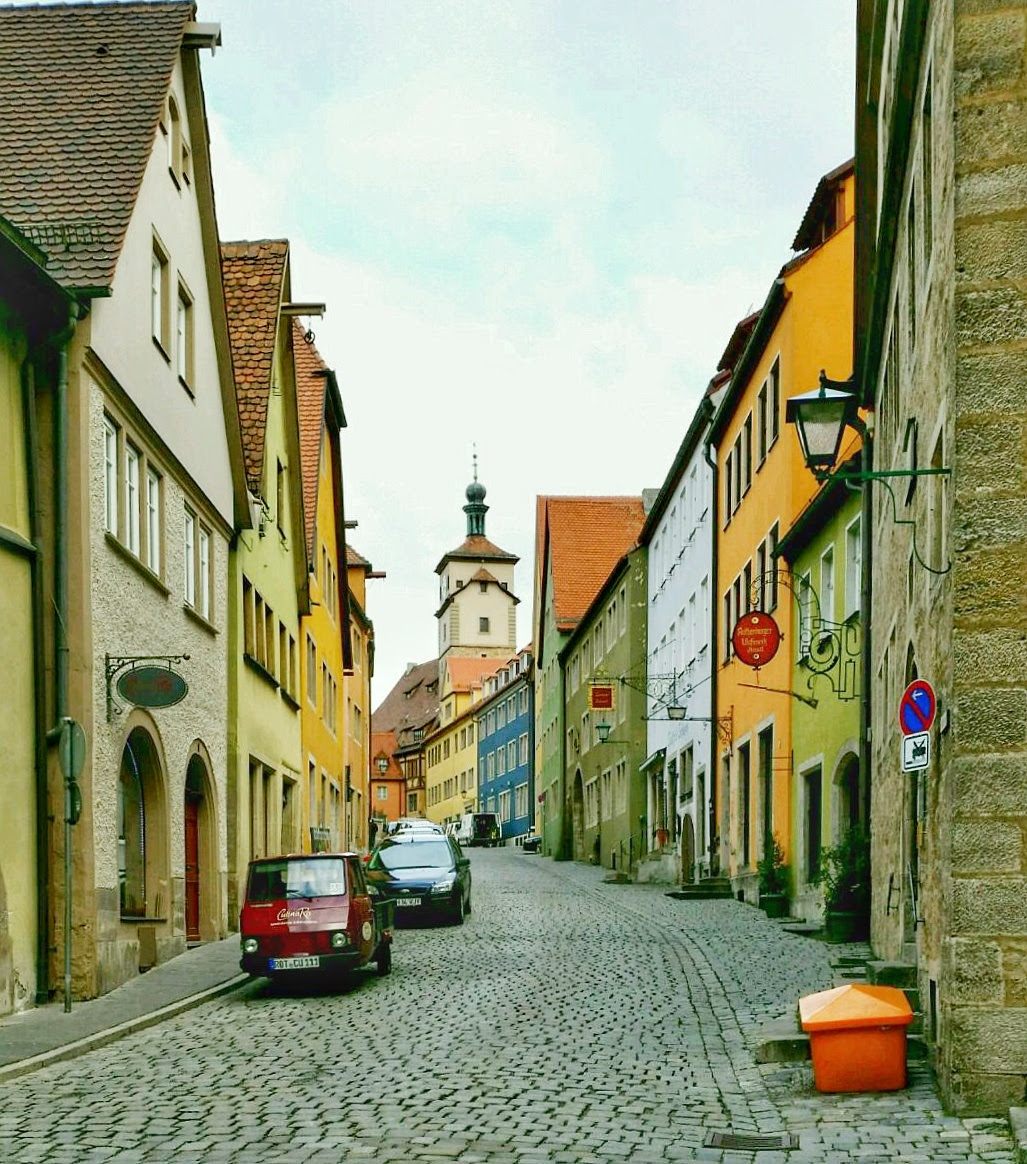 ---
8. Bali
Have your "Eat Pray Love" moment in the magical land of Bali. You will never run out of things to do and you definitely won't be alone because you'll meet many other solo travelers that flock to this Island of the Gods.
---
9. Copenhagen
The main city center area of Copenhagen is very compact making this Scandinavian city very walkable. Sick of walking? Take a boat around this seaside city! Make sure to stop by Nyhavn for a picture perfect photo stop and a great place to eat lunch! Another great way to spend your afternoon is at Tivoli, an amusement park that even inspired the famous Walt Disney. It is super cute and super perfect for solo travel.
---
10. Prague
In a word, Prague can best be described as magical. Make sure to time your visit with the famed Christmas markets for an extra special vacation. Prague is budget friendly, has a charming and walkable old town, and friendly locals which all make this city one of the best for solo travel.
---
11. Melbourne
The second largest city in Australia actually feels more like a city in Europe! Famous for its street art, bright beach huts and fantastic crazy shakes, you'll never run out of stuff to do. There are plenty of amazing day trips from Melbourne including a trip to the famous Great Ocean Road and to Philip's Island to see adorable little penguins march up onto the beach at night.
---
12. Sydney
Sydney is an incredibly beautiful seaside city and one of the best places for solo travelers. The bay area is particularly lovely for a stroll especially near the Sydney Opera House and the Sydney Harbour bridge. The bridge has a great vantage point for incredible views of the city and if you dare, you can climb up to the very top of it! Don't forget to stop at Bondi Beach for an afternoon.
---
13. Boracay
Boracay in the Philippines has a breath taking beach that you could spend all day at, but if you do end up getting bored, there are many affordable activities including underwater helmet diving, fly fishing (no not actual fishing) and four wheeling just to name a few. There are many restaurants right on the beach and the town is filled with bars and nightclubs. There is no need to worry about public transportation so just focus on having a fun time!
---
14. Washington DC
For your solo tour of Washington D.C., start in Georgetown. The University town is very charming, safe, and is a great place to spend an afternoon. You can spend all afternoon strolling around admiring the architecture or you can try your hand at rowing or canoeing on the river. Don't forget to try the world famous cupcakes in Georgetown.
Once you've stuffed your face with cupcakes, walk along the river to the Lincoln Memorial. On summer weekends, everyone's out enjoying the sun playing volleyball, walking their dogs or catching those pesky Pokemon (there are a lot in D.C!). The Lincoln Memorial is home to many free concerts for you to enjoy or head down to the rest of the National mall, enjoying the many memorials along the way. You'll also find over 40 food trucks to choose from and over 14 museums to see! (Bonus: they are all free).
---
15. Philadelphia
Philly's old town is very walkable and safe. There is so much history, incredible food, and architecture in this city so you'll always have plenty to do! There are huge street signs everywhere pointing to the main historical attractions, so it's hard to get lost. There is also an affordable bus option that will take you to all of the main attractions in Philadelphia.
---
16. Kyoto
Oh Kyoto, I fell in love with being transported back in time to old world Japan, walking through alleys and finding secret gardens, pagodas and temples. Japan is very safe and clean and the locals are some of the kindest in the world. While parts of Japan can be very expensive, there are many public transportation options and they even have a one day bus pass for $5 USD that will take you to all of the major cities and attractions. If you're lucky, you'll also spot a geisha!
---
17. Chiang Mai
Thailand is called the land of smiles for a reason. With its friendly locals, Chiang Mai is one of the most welcoming cities in all of Asia, especially to the solo traveler. Chiang Mai's old town is very safe, filled to the brim with endless temples, and is loaded with incredibly unique restaurants. To top it all off, the food is very budget friendly in Chiang Mai. There are many festivals here, including the Lantern Festival. Try to visit during the Lantern Festival, where you can see hundreds of lanterns flying through the Thai night.
---
18. Edinburgh
Edinburgh and Scotland in general are extremely safe. Edinburgh has a lot of similar features to London, but with a quaint and charming feel. The Edinburgh architecture is stunning and there is a beautiful castle overlooking the entire city. You'll never run out of fantastic views and the locals are super friendly. If you have time, make sure to venture out to the country side and add in a trip to the Macallan factory.
---
19. Stockholm
Stockholm is great for solo travel because it is compact, making the old town very easy to walk around. If you're hoping to venture outside of the city, there are fantastic bus and tram options. I recommend the Stockholm Pass to make the most of your time. Some notable attractions are the Vasa Museum, Skansen Park and the ABBA museum.  You can even sleep on an old yacht, now transformed into a hotel called Malardrottningen!
---
20. San Fransisco
There is so much to see and do in this fascinating city by the bay. It's also the perfect place to venture out on day trips to Lake Tahoe, Yosemite, the Redwoods and wine country. You can spend your day by the wharf eating clam chowder in a sour dough bread bowl, noodles from China Town and a 3 layer ice cream sundae from Ghiradelli square. San Francisco has many public transit options and you won't even realize you're alone when you're hunting down all of those Instagrammable places.